Friday at LOSCON41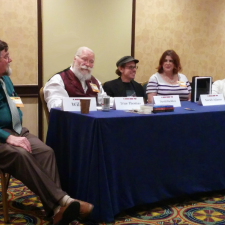 Storytelling: Ancient Tradition into Today
I had a fantastic time on the first panel, Friday November 28, at LOSCON41. Billed as, "Storytelling: Ancient Tradition Into Today," the five of us talked about Storytelling in general, how we use storytelling in our various mediums, what forms we preferred, and what we'd like to see happen to encourage storytelling among greater numbers of people.
As promised on Friday afternoon, here's how you can contact each of these panelists.
Loscon: Delphic Oracle
Later in the evening, I had the amusing experience of participating as part of the "Great Delphic Oracle," answering the esoteric (and not so much) questions from the assembled audience, one word at a time, per Oracle speaker. In just over an hour, forty questions were answered, and ably read-back from the newly dubbled "RecOrdicle," my own lovely assistant Cat. You had to be there to really understand how Chocolate, Monkeys, and Underwear could tell us everything about the next James Bond plot, lost plays discovered to have been penned by Shakespeare, or whether someone would successfully be able to obtain tickets to the next SDCC. As the Oracle once declared, "Truth!" and then promptly fell on the floor.