About
True's Personal Story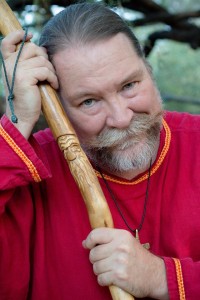 True Thomas the Storyteller (aka Robert Seutter) has been storytelling for many years. He comes by it naturally. When he was in kindergarten, his teacher asked him why he put a big black blob of paint on the paper in finger painting. His reply: "It's a cave… full of bats!"
Rob has had a very interesting life (in the Chinese sense.) His childhood had some rough moments involving foster homes, group homes, adoption, and more. At 17, he joined the Marine Corps and started to really travel. From guarding nuclear weapons in Philippine jungles to being a "grunt" and going to many places, the Marine Corps visits included Asia, Europe, and more. While in the Marine Corps, he became one of the youngest and lowest-ranking Marines to be sent to USC Navy-Marine Cinematography program.
While in California, this Minnesota boy fell in love with the state and after he got out of the Marine Corps, he headed back to Los Angeles. There, he worked a wide variety of freelance and odd jobs (security guard, location rep, and any number of weird gigs). He worked as video/soundman for Dick Clark Productions and as a line producer in Saudi Arabia making training films for one of the worlds largest oil corporations, Aramco. During this time he traveled a great deal, visiting Africa, the Middle East, Asia, and more.
Back to Hollywood, Rob worked on perfecting his chops as freelance video editor and post specialist. His clientele ranged from late night commercials to Disney and Medical videos. He worked for several years as the lead editor for Energy Productions and won awards for his editing. True continued to travel, working as a producer and post supervisor.
After a while, he found his technical skills pulling him toward system design and ended up working for ASC/Leitch. He became the head of customer support and later, an Inside Sales Engineer, designing sophisticated broadcast video server systems.
While doing all of the above, he freelanced, doing RPG design, game theory, and writing.
Around 1988, Rob ran into a re-enactment group called the Queen Medb Encampment, a 501c3 non-profit organization that reenacted ancient Celtic history and personas. After meeting them, he applied for the name of "True Thomas de Rhymour, a 13th Century Scottish poet and prophet." Eventually, he was nominated as their Bard and, for the next seven years, immersed himself in Celtic history, culture, and folklore. He was given the title of Ard Ollave (High poet). Part of his responsibility in the organization was educating and training others, as well as entertaining. At this point, "True Thomas" was storytelling at Renaissance and Irish faires, really starting to make a name for himself.
True, as he was now known, moved on to storytelling at schools and then to anybody who would hold still long enough to listen. With the help of Jon Hughes and later Bill Howard, he founded Storytelling at Eagles, which ran for two years featuring weekly storytelling.
From there, they moved to a variety of venues and founded a 501c3 State and federal non-profit organization called DreamShapers. It focused on creating venues for storytelling and the folk arts. In the next three years, they sponsored and created over 190 storytelling shows throughout the Los Angeles area.
In 2002, True passed the torch over to Ken Frawley, the current President of DreamShapers, and True puts it, "got out and pushed." True wore many hats and was integral to the creation of the Los Angeles World Storytelling Festival. Now he works diligently developing the many aspects of his storytelling art, and as a consultant for the Media and Event production fields.
True is an avid proponent of storytelling. He teaches the art, creates events, and has performed in a wide variety of places from campfires to battlefields. His personal storytelling philosophy is that a good storyteller should be able to tell to anyone, anywhere it's physically possible. Anyone can and should tell stories, and to become a master of the craft can take a lifetime. He's also a big believer in the spiritual side of storytelling. He believes in the power of stories and that the right story, in the right time and place can change the world.
Storytelling…the most fun you can have with your mind open!
Published Author

Interested in True's published science-fiction? Check out http://blog.robertseutter.com/